Thermographers Co., Ltd. conducts non-destructive inspection, temperature measurement, education and training, etc. by infrared thermography. Infrared thermography has features such as being able to measure as a thermal image in a wide range of non-contact, non-destructive and is being utilized in various fields. Our company supports customer's facility management and diagnostic works with high performance infrared cameras and experienced measurement personnel.
Company Concept : Innovator of Infrared Thermography Measurement
1. Thermographers Co., Ltd. is based on infrared thermography measurement technology and provides facility maintenance method to customers having both ways of "Safety" and "Cost Saving".
2 Thermographers Co., Ltd. plays a part of social change from "Consumption" to "Maintenance" of equipment by providing infrared measurement technology.
3. Employees of Thermographers Co., Ltd. strive to improve technologies and services on a daily basis in order to obtain customer satisfaction.
Company Profile
【Company Name】 Thermographers Co., Ltd.
【President】 Hirofumi Yamada
【Address】
 1-4-14, Suge, Tama-ku, Kawasaki-shi, Kanagawa 214-0001, Japan
 TEL:+81-(0)44-944-9311 FAX:+81-(0)44-944-6988
 URL:http://www.thgs.co.jp/ E-mail:cs-info@thgs.co.jp
【Capital】 10 million Yen
【Incorporation】 March, 2001
【Main Bank】 Kawasaki Shinkin Bank
Business Descriptions
・Inspection of electric facilities by infrared thermography.  
・Inspection of buildings, bridges and slope by infrared thermography.
・Design, manufacture, sales of measuring equipment and the peripherals.
・Design, manufacture, sales of software for measurement.
・Maintenance consultancy for electric Facilities, machinery facilities and construction structure.
・Consulting on introduction of measuring equipment and inspection equipment.
・Training and support for operation of measuring equipment and inspection equipment.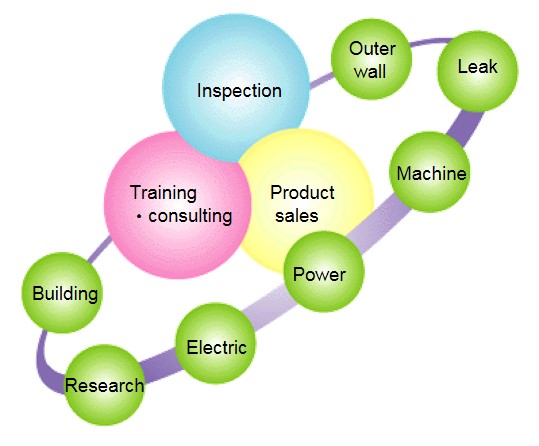 Inspection
■Electric power facilities (generation, transmission, distribution etc)
■Electric facilities in buildings
■Civil engineering (bridges, dams, slopes etc)
■Building (outer wall delamination, water leak etc)
■Other general inspections
■Contracted research for infrared thermography
Qualification
 Our employees have qualification of "Thermographer Level I or II" (in accordance to SNT-TC-1A recomended practice of ASNT and ASTM srandards). We will strive to further improve measurement technology through the qualification.